I plan to make this entry shorter, with more small paragraphs, quotes and suspense. See, I didn't get as many comments on my last entry, so I figured folks are holiday busy and need some classic short-attention-span reading.
"But Katie," you might be thinking, "will it still culminate with the heart stopping unveiling of your latest photographs from Nantes and elsewhere?"
"Mais oui!"
Christmas in Nantes:
Christmas markets in Nantes, and more famously in Eastern France and Germany, are small wooden chalets where various artisans, gourmands and kitsch-pushers sell their wares. In the heart of Nantes, chestnuts roast on open fires, a carousel entertains small children, and a
Pere Noel
(Father Christmas) booth allows those with an American bent to get their pictures taken. All the while, the scent of
vin chaud
(hot spiced wine), hot chocolate and warming pretzels wafts through the chilly environs. And in the other Christmas Market square a few blocks away…more ugly jewelry, bad art and wind chimes. Oh, and a giant, steamy vat of Tartiflette – a tasty Savoie (French Alps region) treat of roasted potatoes, cream, Gruyere cheese and bits of smoked ham. Next-door, you can get a dessert Guafre (Belgian-style waffles) with your choice of chocolate, Nutella, caramel, or just plain sugar. But enough about food…
Christmas in Nantes
…the streets are adorned with lights and many store windows with trimming. Music is piped through the busier-than-usual pedestrian streets. However, not the Christmas standards you may imagine, but rather a strange mélange of salsa, American pop and adult contemporary. I guess traditional Christmas music is bound to step on somebody's toes? Oh well, it makes for a nice little soundtrack for shopping, but makes me itch for some Bing Crosby crooning.
There are some organ concerts and other sacred music events at local cathedrals. We visited the city's main St. Pierre Cathedral last weekend. No Christmas carols, but we did witness the lighting of the third advent wreath candle, and as a bonus, the priest was a stunning likeness to St. Nick. Speaking of St. Nick, he is not Santa here. Santa is Pere Noel (father Christmas).
St. Nicholas'
day has already been celebrated earlier this month. Our Romanian friend Daciana brought the class chocolates to commemorate the day. Also part of the French saintly celebration is the eating of the
Galette des Rois
(King Cake). Yes, the concept is similar to the Mardi-Gras season King Cakes…something is hidden in the innards of the confection and he (or she) who finds it is not only "King for a Day" but must also make the cake next year. Well, I was fortunate to ascend to Kingship last Friday evening.
"Oh...I think I've found it!" I cried when I spotted what I thought to be the traditional
crèche
(manger with baby Jesus) in my 2nd piece of Galette. I delicately picked the pieces of marzipan and pastry off the figurine to reveal...not the Christ child, but a tiny likeness of
Bob l'Eponge
…aka - Sponge Bob Square Pants.
Okay, first no Christmas music, now Jesus has been replaced by Sponge Bob? I almost makes me miss the uber-Christian cultured U.S. South. And it made us all laugh really hard.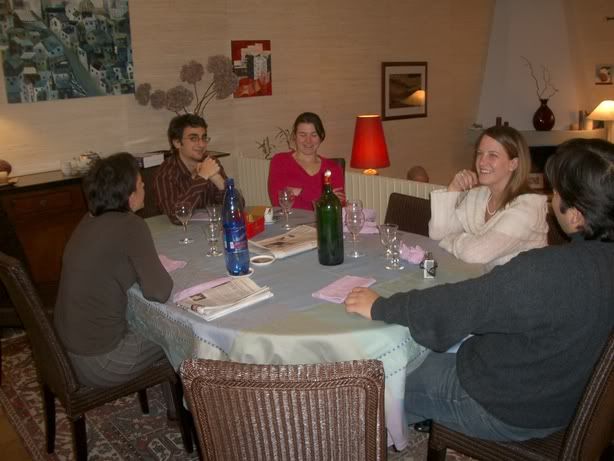 Christmas in Nantes means some people get trees. In fact, I think my favorite moment from the last week was sitting on a comfy couch in the home of one of the French students, Thomas. His family welcomed us for a "Big French Meal" (to be referred to as BFM) last Sunday afternoon. (Pictured above at Chez Thomas, pictured center) Given that an imbalance of this blog's words have been about food, I will sadly omit detailed explanations of each superb bite, but will only say….it was a gift to be in a loving, welcoming home… with a lighted, decorated Christmas tree. And in true Franco-American style, we even sang a few lines of "O Tennenbaum.
"So, are you happy to be returning home?" Many have asked us this question, and we Americans have asked one another. Honestly, the idea of leaving behind this ephemeral French life that we've enjoyed for four months - BFM's, cheery well-walked streets, welcoming friends and countless other joys - is saddening to us. We anticipate the culture shock of being swept back into "real (American) life." But of course, the treasure of family and friends awaits. And for that, I will continue to let my emotions wrestle. I may even cry as when we lift off from Nantes-Atlantique airport, as what was the unreal present becomes memory, and for how excited we will be to have our old bed back!

VIEW MORE NANTES SCENES AND OUR WEEKEND IN LILLE