7-9-06
I feel rather exhausted at the moment. I've just finished mopping up the last of my "breakfast for dinner" scrambled eggs and toast. Sure, I awoke at 7:45 this morning after a late night, sang in two church services, and just a few short hours ago my house bustled with the excited faces of American soccer fans. Those who came into this World Cup adventure swearing that they wouldn't care, then finding themselves swept up. That made me happy. But I didn't know I would be so exhausted and sad when it all ended.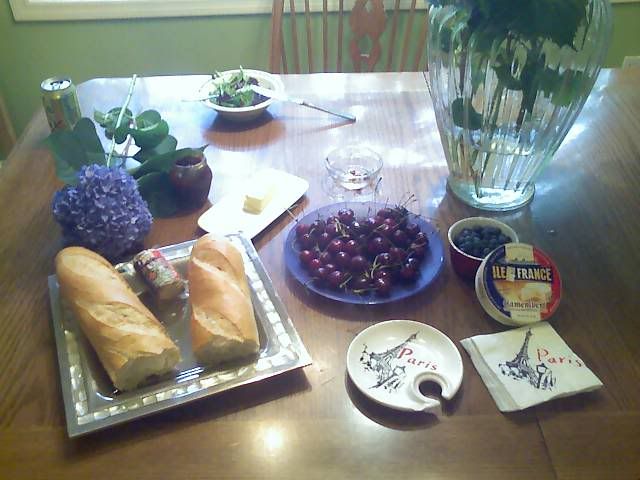 As anyone at our little Championship gathering can attest, the Weaver allegiances were unmistakable: A giant blue hydrangea with a hangtag reading "Allez Les Bleus" adorned my front door. My table spread with all things red, white and blue to support… France of course. There was Parisian kitch (from Target no less), blueberries, cherries, and the requisite baguette, butter and camembert. Sadly, the $10 Champagne still rests comfortably on my fridge's top shelf. There was no need for uncorking or celebration this afternoon.
Sure, I am sad that France lost, but sadder still at the surprising exit of Zinedine Zidane, who had fast become my tournament hero. The 34 year old star returning to the game, as beautiful as ever, exchanging handshakes and hugs with opposing players, rarely feigning fouls ("diving") during games. His playing is beauty and Zidane seemed to me a class act. Which is why his senseless head-butt to the chest of an opposing player, resulting in his ejection was so frustrating. Even had France won, what a blemish to endure. French papers reported the stunned disappointment of French fans, packed onto the Champs Elysees, unable to relive the glory of '98.
I hope they don't blame "Zizou" for the loss, Italy played outstanding defense and deserved to win. But I'm still sad to say bye to Zidane that way, and equally as unready to say goodbye to this quadrennial funfest of international togetherness. To flag-waving Germans who finally feel safe to rally around their country again. To Ivory Coast players whose World Cup presence halted civil war. To the mediocre American broadcast team on ESPN and ABC who tried their darndest to get all of us ignorant gringos to like soccer. To my lovely, non-sporty mum screaming at the TV and talking footie like she's been watching it for years. To now-empty pubs, and streets and city-squares that hosted millions of fans of all colors, sizes, economic backgrounds all there together to watch, dream and soak in every moment of one of the globe's great equalizers: sport.
Thanks for enduring the soccer craze. I'll get back to restaurant reviews and travelogues soon enough. Allez Les Braves.