Last night while watching the pre and post-game commentary and interviews surrounding the U.S. Men's National Team Friendly against Mexico, I was struck with how NICE Jurgen Klinsmann seems. The recently hired head coach was utterly positive after a very lackluster first half performance by his new team. He smiled comfortably, vowing that there was still time to play, saying he was pleased with how things had gone for the first 45.
------------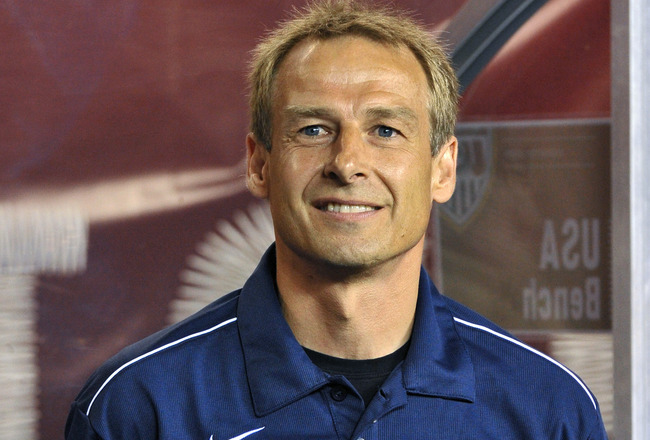 Drew Hallowell/Getty Images
(Womanly Aside)
But, oh, that smile. Here's a little tidbit overheard in the Weaver living room last night before kick-off. Me: "Ya know, I think I have a little crush on Jurgen Klinsmann." Jeff: "Yea, me too."
Hm, okay, well that was easy. Like Jurgen is easy on the eyes I guess. I don't know whether it's that aformentioned smile that exudes a coolness and nonplussed confidence, or whether its the physique that leads one to believe he could still keep up with the pros in a pick-up game. Maybe it's the European tan, the steely eyes or the German accent, now heavily Americanized.
"He looks like my people," I said to Jeff last night. And maybe that's it, strangely, that his German features are so very similar to my Uncle, Father, Grandfather and so on that they seem comfortable to me. Not exotic, just ruggedly good looking like my Uncle was at his age. Add to that his impressive soccer lineage, and my hopes for his impact on my home-country's national program and well, there's magnetism.
The only thing I find slightly worrisome about any of this discussion, however, is that my attractions are now turning from players to coaches. Lord, am I getting that old? I remember going to England in 1999 and seeing a post-card of Michael Owen in his England kit and having an instant crush on him. I bought the postcard, hung it in my college apartment for several months after returning. Sure, I still think he's great looking, but now I also pine after Klinsmann, Leonardo, Guardiola? Yea, I'll admit it, I even think Mourinho is attractive. You younguns can have your Jack Wilshere's and Chicharitos, I apparently am moving on to the old guys. Sheesh.
------------------------------
Kinsmann's smiling and positivity before, during and after the game wasn't in pure opposition to his predecessor, it just had added notes of positivity. Perhaps because he had more inflection in his voice than a Speak N Spell, something which Bob Bradley usually lacked. But my first thought upon hearind Klinsmann during his half-time interview was how much it reminded me of Pia Sundhage, another tanned European U.S. National Team coach.
Commentators seemed often bemused by Sundage's positivity during the Women's World Cup, even in the face of poor play, or frustrating calls. But by the end of the tournament, we all expected it, and for me personally, quite liked it. The the key result for Sundhage wasn't to ensure that critics and fans liked her glass-half-full approach, but to ensure that her team responded to it. And they did, in a World Cup Final kind of way.
So does all this happy-clappy on the sidelines represent a turning-tide in sport from the rough-and-tumble venom-spewing macho-men inciting fear in their players? Are we past the days of the Woody Hayes', Bear Bryants, by God, the Bo Schembechlers ? Sure, maybe the gridiron is different, but maybe not. Perhaps even the tough-as-nails ranks of college and professional football are falling prey to the nice guy epidemic. Are we in for more Tony Dungy mentor-types? More Mark Richt's. Sure, they might yell at you in the locker room, but then they pass you a note with an encouraging bible verse and ask about how your sick grandmother is doing. These guys are positive, kumbah-ya coaches and players like playing for them.
Shiny Happy Players
The Wall Street Journal featured a marginally scientific inquiry into the amount of body contact done by NBA playoff teams as it relate to their success. Wouldn't you know it that the Dallas Mavericks, the most affectionately touchy team on the court went on to win the big trophy. Those guys were always hugging, butt-patting, chest bumping and high-fiving. Clearly, positivity pays. (Interesting note that one of the ring-leaders in this hug-fest was German star Dirk Nowitski. Maybe we'd all be happier if we ate more brats and drank more beer. Hm.)
I've seen this happy trend on the Braves bench this year, too. The team is transitioning from future hall-of-fame manager Bobby Cox, one of the planets most fantastically lovable, crotchety old guys to Fredi Gonzalez, a smiley, portly, low-key latino whose first name ends in "i" (seriously? Does he dot it with a heart? ). And you know what I've noticed this year? More hugging. Sure, we loved Bobby's dirt-kicking, spitting, red-faced antics, but maybe Fredi's laid-back style is bringing a new sensibility to even the dirtiest, manliest place on earth - the baseball dugout.
Wednesday night at the U.S. - Mexico game, there was an awful lot of hugging. Coach on coach hugging. Player on player, coach on player etc. Klinsmann's first reaction in the post-game interview: "I really had fun." What coach says that? And after a tie no less. But you could tell he meant every word of it. That positivity seemed to trickle down to his players, even 11 days in. I'm pretty sure I saw him tell sub Ricardo Clark (who plays in Germany) to
"Mach SpaB"
(that means "have fun" in German) as he ran onto the field.
Macht SpaB
, eh?
Naturlisch.
So, whether or not we are in a new Nice-guy era of sport, U.S. soccer is at least in a slightly upgraded version of that with Herr Kinsmann. And I'd be happy and proud to find myself in the middle of that hug-fest.
Ja? Bitte?